The Bad Guys
Since SYCO is no more, this page is just called Villians. These include all the baddies out there that Orak and company had to fight.


Name: Erim
Job: Healer of SYCO & Former SYCO Leader
Origin: Lufia series
Profile: As long as Erim lives, anybody can be revived. She revived Rulakir over and over, and over again. Erim's powers were underestimated at one time, but there is no real reason to worry about that much anymore.



Name: Daos
Job: Former SYCO Leader
Origin: Lufia series
Profile: Daos was summoned with the rest of the Sinistrals in order to wipe out control. Very powerful, but his weakness comes in the form of the Dual Blade.


Name: Magus
Job: Former SYCO Member
Origin: Chrono Trigger
Profile: Magus, under the orders of the true leader of SYCO, usually ran things and appointed people at possitions. Magus is no dummy, that is why he never made himself Mr. Shorty.


Name: Bowser
Job: Former SYCO Member
Origin: Super Mario series
Profile: Bowser usually sits around and does nothing, but like Magus, he advises SYCO under the true leader of SYCO. His tactics usually require stealing the woman and wait for the hero to come. Not a bright guy.


Name: Dr. Evil
Job: Former SYCO Leader
Origin: Austin Powers series
Profile: In a desperate attempt to rid the world of control, SYCO hired Dr. Evil to lead them. They had no idea what kind of tactics he ran, which usually never worked out, and if they didn't, Dr. Evil would just fly away in that ship that looked like a giant... well, whatever.



Name: Forte (or Bass)
Job: Former SYCO Member
Origin: Megaman 7 and up.
Profile: To try to combat X and Zero, Forte was hired in order to equal their powers. Forte takes no crap from anybody, and that made him a dangerous force to SYCO.



Name: Vegeta
Job: Former SYCO Member
Origin: Dragon Ball Z
Profile: Vegeta was hired by Rulakir to overpower Orakio in episode 1. An unexpected guest in favor of Control showed up to save the day. Vegeta is easily fooled, but when he realizes it, I don't think that anybody wants to be around for that.


Name: Metal Sonic
Job: Former SYCO Member
Origin: Sonic the Hedgehog series (at least some of them)
Profile: In order to match Sonic's speed, Metal Sonic was hired. Since he is made of metal, his body is also harder than Sonic's, so even if sonic were to catch up to him, he would still need more power to stop Metal Sonic.



Name: Dr. Wily
Job: Former SYCO Leader
Origin: Megaman Series
Profile: Dr. Wily was hired for his invention ideas. The Orakian Project was invented in order to sap the power out of Orakians. It worked too, he got both Orakians and sent their powers into shards and scattered them across the universe. A diabolical man, but a wimp when caught.


Name: Sadoul
Origin: Vay
Profile: Crazed on power, Sadoul started to negotiate with Dr. Wily and Dr. Evil. His armor is powerful enough to destroy an entire village. He didn't care about anyone or anything, and would do anything to get his power.



Name: Tsarkon
Job: True Leader of SYCO
Origin: Sword of Vermilion
Profile: Tsarkon was the man responsible for creating SYCO. He may not look all that powerful in his first form, but his beast form is beyond any power known to man. Tsarkon carried the 16 rings of the world of Vermilion. The 8 rings of light made him immune to any elemental attack, while the 8 rings of darkness increased his power. Very VERY powerful, and was very VERY difficult to defeat.




Name: Ghaleon
Job: Random Super Villian
Origin: Lunar Series
Profile: A while after Tsarkon was defeated, Ghaleon mysteriously showed up and wanted the Orakian Book. Since Orakio wouldn't give it to him, he started to kidnap women to force Orakio to give him the book. Ghaleon once defeated did not die, but revealed his true powers, though it still wasn't enough to defeat the Orakians.


Name: Dark Skull
Origin: Beyond Oasis
Profile: There isn't too much known about the Dark Skull except for the fact that he can possess the bodies of other people. He has an immunity to the power of the Orakians. He was the one who killed Crys, but he got what was coming to him in the end.


Name: Grand Wizard
Origin: Beyond Oasis
Profile: The Grand Wizard can use some of the most powerful spells... it's just a shame the guy could be killed before he could ever use any of them.


Name: The Tsarghaldoul Wizard
Origin: Who knows with me?
Profile: The Tsarghaldoul Wizard was a combination of Tsarkon, Ghaleon, Sadoul, and the Grand Wizard. Needless to say with those 4 that it would be some powerful. But of course, it couldn't stand up to our heroes.


Name: The Non-Entity
Origin: Beyond Oasis
Profile: This being... or non-being is the one behind all the trouble in Get Wise: The Movie. He also has an immunity to the Orakian power, but his weakness lies within the Gold Armlet.


Name: The Kamekaze Kannon Khickens (KKK)
Origin: Toejam & Earl
Profile: These clumsy chickens operate a cannon which can fire anything from lasers to tomatoes. No matter what they do, they seem to be unable to get any job done.


Name: Wolf Captain
Origin: Lunar: The Silver Star
Profile: The number 2 in command of the evil group FOWL. He is sent to steal the time machine of Starbird's, but ends up being at the blunt end of his sword somewhere in his future.



Name: The Dark Entity
Origin: Mind of Orakio... but the pic is from Breath of Fire
Profile: This evil being is the God that the members of FOWL worship. He can possess any body and is immune to the effects of time itself, but he does have a burning sensation every time he touches Laconia. Possibly the biggest enemy Orakio has ever faced, but, he was no match for a Fused Orakian and a Heart Felt Dragon.



Name: Laco & Nia
Origin: Mind of Orakio... images from Vay.
Profile: These two knuckleheads are the two that guard the Laconian ore. As fast as they are, they seem to be too slow to avoid the punches of Zak.



Name: Gilligan & Skipper
Origin: Mind of Orakio... images from Vay.
Profile: These two beasts... who seem to have a half of brain between them, were sent by the Dark Enity to take the Graphite. They seem to be immune to any physical attacks, and by breaking the Sword of Ages, they prove it. Nobody has seen the last of these 2 yet.


Name: King Nole
Origin: Landstalker
Profile: The evil overlord who at one time ruled over the land in the game Landstalker... but now he seems to be guarding the Gold Bond. He seems to have a place in his dark heart for dragons.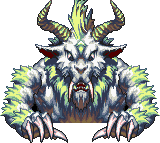 Name: Dolan
Origin: Seiken Densetsu III
Profile: Dolan is the God-Beast of Moon and is an extremely powerful monster summoned by the Dark Entity to fight Chrissy, Orakia, and Rulakia. Though not exactly the brightest bulb (he has the mind of a dog in fact), he still managed to make the three use their minds. However, it didn't save him from his meeting with a wooden stick.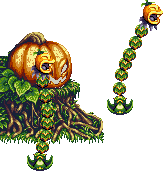 Name: Mispolm
Origin: Seiken Densetsu III
Profile: Summoned by the Dark Entity to destroy the Sol Herb, Mispolm is the God-Beast of Wood, which is weak to the power of Moon. Though Orakia has the wrong idea about using the power of Moon, Your Orakian Hero, even though dead at the time, still manages to come by and defeat this beast.


Name: Dangaard
Origin: Seiken Densetsu III
Profile: Dangaard is the God-Beast of Wind, and a pretty annoying and powerful monster at that. He was summoned by the Dark Entity to knock down the Air Castle, but, help from an unlikely person caused Dangaard to plummet towards the ground.


Name: President NEU
Origin: The Mind of Orakio
Profile: One a journey, he once retrieved the long lost Motavian Ruby, which held extreme powers. Using that to his advantage, he created NEU, the National Evil Underground. He developed the Destructo Beam, a weapon that does more damage in less time than the Dark Entity ever could do, using the power of the Motavian Ruby. However, not even the Ruby could save him from the wrath of a mad Orakian. But, even if he's gone... he left the J-Project running.


Name: NEU Guards
Origin: The Mind of Orakio
Profile: President NEU seems to have hundreds of these at his disposal. Fast and strong, they can do almost any job that the President orders them to... except kill a control agent.


Name: NEU Knights
Origin: The Mind of Orakio
Profile: Fed up with the failure of the NEU Guards, President NEU created the NEU Knight, a super powerful knight that could give even Orakio a good fight. However, it takes a lot of effort to create one, and even so, they are very vulnerable to lightning.


Name: Anja
Origin: The Mind of Orakio
Profile: Anja was born out of President NEU's J-Project. Anja's power and speed was unsurpassed by anyone, and Anja could easily kill a person by draining their energy and making it her own. Claiming to be the legendary Star of Algo, Anja's greed for the Circle of Power in Baya Malay Tower was her downfall. However, her mark was left on the world, killing thousands of people, including Orakia, Rulakia, and Kyra.


Name: Draco
Origin: The Mind of Chris-chris
Profile: The leader of the Dark Dragons and the father of Chris-chris, Lord Draco seems unstoppable. Terrorizing the world many years ago, it seemed hopeless for anyone to stop him. That is until a man named Rulakir appeared, being more powerful than him. To this day, the Dark Dragons and the Orakians have long since warred. Returning to take his daughter back, Lord Draco was sealed away with his underlings and Chris-chris by Orakio, who at the time made the hardest decision of his life in order to save the world. However, only time will tell when he returns in full force.


Name: Lord Rulakir
Origin: The Mind of Starbird & Phantasy Star III
Profile: Lord Rulakir was the brother to the legendary original Orakio. It was through his experiments on his brother's blood that lead him to create a race of powerful beings, whom he named after his brother and called Orakians. Infusing himself with the same power, he too gained the power of the Orakians, though he infused himself with so much that time could not kill him. Still alive after hundreds of years, Rulakir has done a lot. He lost the love of his life because of the experiments, which caused him to become psychotic. He one day wishes to bring her back to life again. He almost stopped everybody in his way until his apprentice, young Rulakir, betrayed him to help his brother out. Nearly on his death bed, Rulakir fled vowing to return, but summoning a beast named Zarnath to destroy everyone.


Name: Zarnath, the Golden Destructor
Origin: The Mind of Starbird
Profile: Though not much is known about Zarnath, this giant monster was summoned by Lord Rulakir as he was fleeing. Not seeming to scratch it much at all, help arrived and scared it off. Nobody knows where it is or if or when it will return, but everyone is keeping their eyes peeled for the Golden Destructor.