Main Characters
Since who knows who is in Control nowadays, these are a list of the main characters of Get Wise.



Name: Orakio
Origin: Take a wild guess.
Profile: The super shriner of RPGC and main character of Get Wise. He is Control's top agent. He is also the last surviving member of the Orakian race, the most powerful race in the universe... or so it is told. Orakio is not exactly the sharpest knife in the drawer, but he is probably the most dangerous.



Name: Rulakir
Origin: The Mind of Orakio... and Phantasy Star III
Profile: Rulakir was brainwashed to become the powerful leader of SYCO. He may seem tough, but he is very much like his twin brother Orakio... minus the stupidity... and a little greedier and more selfish. However, lately his personality has lightened up a bit as his heart starts to grow warmer.


Name: Jema
Origin: The Mind of Orakio
Profile: Jema was born from President NEU's J-Project. After recieving so much power, Jema was split from her other half, Anja. Jema quickly learned the ways of life but realized that her time was short, as her and Anja were telepathically connected. Jema's life was spared when the Circle of Power saw the pureness of her heart and decided to give Jema the power of the Palmanian Sapphire.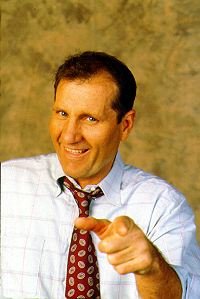 Name: Al Bundy
Origin: Married... with Children
Profile: Once a shoe salesmen (did I say once?), Al is now the Chief of Control. He likes to give orders to his agents and if they do not follow his orders, he will threaten him with the most dangerous weapon known to man... the shoe bomb!


Name: Selan
Origin: Lufia 1 & 2
Profile: Selan, after pretending to die, needed something to do, so she joined control. She doesn't like to fight much anymore, so she takes messages for the Chief. Sparks still fly between her and Tia though. She left when Al left, but returned when he returned.



Name: Crys
Origin: The mind of Orakio
Profile: Crys is one of the rookie control members. He cannot use magic, so he relies on his sword to get the job done. It is discovered that Crys is the 1/2 brother of Orakio and Rulakir, which makes him 1/2 Orakian. Upon discovering this, Crys decides to stick around control to help out his brother. Died to the hand of the Non-Entity, but because of Starbird's Time Machine, has lived to see another day.


Name: Crystal
Origin: The mind of Orakio
Profile: Like every other Orakian of this Generation, Crys has a twin. This is Crystal, Crys' twin sister. She, like Crys, cannot use magic, but can fight using daggers. She takes after Orakia and Rulakia as far as personality goes, being the sarcastic one at times.


Name: Zelda
Origin: Legend of Zelda series
Profile: Zelda came to control to lend her magic to the good of the world. Her magic primarily lies with healing, so the Chief made her the nurse of control.


Name: Raja
Origin: Phantasy Star IV
Profile: Raja is the light-hearted, funny doctor of Control. If the nurse isn't around, Raja is usually there to preform certain healing procedures and making medicine. Raja is also handy with old age remedies and manages to create some stuff that serves some purprose.



Name: Zak
Origin: Landstalker (and partially from Orakio's mind)
Profile: Zak was the mean spirited beast that was the boss of the evil group FOWL. He was turned into a monster by one of Starbird's inventions, but he still hasn't forgotten the one who truely loved him. His mind was once controlled by the Dark Entity, but since an event with Starbird, Zak is a free man. The knowledge that he learned from Starbird helped him decide to serve Control as an Engineer.


Name: Jessica
Origin: The Mind of Orakio
Profile: Jessica is the girlfriend of Zak. She lends some advice to some of the girls once in a while, but is afraid of hights. Zak keeps her there to keep a good eye on her though.


Name: Sparkster
Origin: Rocket Knight Adventures
Profile: Sparkster was originally hired as a mercanary to help right the first form of the Dark Entity. After the Dark Entity shattered his spine, Sparkster has not been able to do what he used to be able to do, so Zak usually pushes him around in a wheelchair. However, Sparkster is still around to lend a thought or two. He seems to know a bit about Android Technology and finds a way to install the Aero Parts back into Wren.



Name: Wren
Origin: Phantasy Star III & IV
Profile: Wren showed up around Control for a short time before, but once Control restored the Air Castle, they needed a pilot. Control turned to Wren. His personality seems a bit dry and he uses big words a lot, but Wren is highly intelligent and very strong. He seems to sense things without actually having to see them. Also, with the aid of some spare parts of his old body, can transform into various vehicles.


Name: Leene
Origin: The Mind of Starbird
Profile: Leene was the lone daughter of the evil Lord Rulakir. Taken away at birth by an Orakian named Onal, she was left at an Orphanage at Lorath, where she partially grew up with Orakio. Leene was taken away and brainwashed by her father to do his bidding in his fight against the Dark Dragons. Freed from her bonds again, Orakio holds Leene close to him.


Name: Jaymi
Origin: The Mind of Starbird
Profile: One of the de Cardinal family, Jaymi has strong power for a human. Her mind is as sharp as a dagger and she is extremely intelligent. Never afraid to back down, Crys makes sure to keep close to her.


Name: Arik
Origin: The Mind of Starbird
Profile: One of King Ali's most trusted men, Arik is never afraid to defend what he believes is right. Righteous, courtious, and caring, Arik proves to be a loyal ally to Orakio. He seems to also be winning the heart of Crystal.