For SC: Ghost screenshots click here. For SC: Ghost artwork click here.
Starcraft: Ghost is Blizzard Entertainment's newest project concerning Starcraft: a console tactical-action game set in a Starcraft environment. The game itself seems to be a third-person-shooter-like game with loads of fun Starcraft features like Lockdown and nuking. Expect this game to be out for Xbox™, GameCube™ and Playstation® 2 some time in 2004.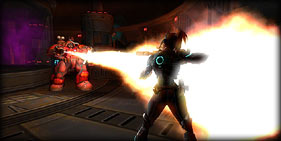 To quote from Blizzard's website, Starcraft: Ghost has:
Revolutionary new style of gameplay featuring enhanced physical and psionic abilities
Hostile Environment Suit designed to magnify strength, agility, and speed
Over-the-top special effects offer stunning visuals and unparalleled tactical realism
Unique Calldown abilities allow players to target large-scale attacks from the ground
A deeply evolving storyline set in Blizzard's gritty sci-fi StarCraft universe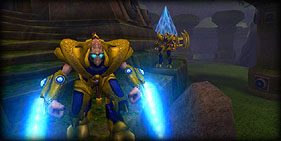 The game itself features a female Ghost agent named Nova. Playing the game from her perspective, players will be able to (again, from the Blizzard website):
Utilize a Wide Range of Elite Ghost Abilities
Outmaneuver your enemies at sonic speed
Infiltrate bases and sneak past guards using the cloak ability
Lock down vehicles and electronic devices to immobilize them
Engage in both face-to-face firefights and planet-scale warfare
Leverage the Resources of an Entire Army
Call down massive Battlecruiser and Siege Tank strikes
Take control of familiar StarCraft vehicles
Wield a variety of familiar weapons, such as the Gauss Rifle and combat pistol
Join your allies in battle and do your part to ensure mission success
Experience the World of StarCraft in 3D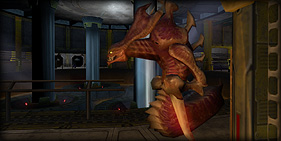 See the world of StarCraft on a personal level
Visit the familiar planetary settings of Mar Sara and Aiur
Explore 3D environments designed for strategic interaction
As Nova, players will be able to scale fences, hang from wires, climb poles and scale walls, and negotiate tightropes
Unveil the Next Chapter in the StarCraft Saga
Experience story-driven missions complete with multiple plot twists
Play a crucial role in the rich StarCraft history
Engage in combat with a variety of fully rendered units from the StarCraft universe, including the Terran, Zerg, and Protoss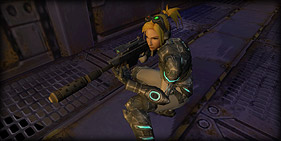 This game will, however, not be out for PC. If any fans are wondering if this is Starcraft 2, the answer is definetly no. Starcraft: Ghost is simply a game in itself, and not a sequel to the Starcraft real-time strategy games. Let us hope that this promising-looking game will not disappoint!