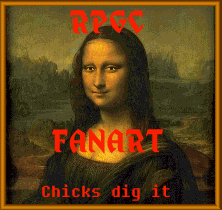 March 26, 2009 - Happy Springtime
I felt like cleaning my inbox and finally putting up all those pictures that were submitted months ago! Not a huge variety of artists, but a decent one regarding games.Thanks for the submissions, guys!
---
Fancy table format above provided by Tenchimaru Draconis. Yay TD! We all love TD!
©2001-2006 RPGClassics.com. All materials are copyrighted by their respective authors. All games mentioned in this site are copyrighted by their respective producers and publishers. No infringement on any existing copyright is intended. All rights reserved. And don't try to park near here, it's just bloody impossible nowadays.